Mid-Autumn Festival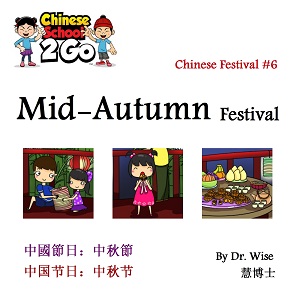 What is Mid-Autumn Festival or Moon Festival?
What do people do to celebrate the full moon?
Learn more about "Mid-Autumn Festival" in this TRI-lingual ebook!
Read in color coding text: English (black), Chinese Traditional (purple) and Chinese Simplified (red)

Learn the historic origins of Mid-Autumn Festival and its cultural meaning

Learn the romantic story behind the legend of Hou Yi and Chang E

Play the "Riddle Guessing Game" here in this book

Check out some photos to learn cultural customs and practices
Who would love this ebook?
Parents: download a copy to share with your kids

Grandparents: download a copy to share with your grandchildren

Teachers: download a copy to share with your students today
ISBN:
9781987918991 (Amazon, Kindle)
9781988249148 (Smashwords, epub)
9781988249223 (PDF)
9781988249278 (Blurb bookstore)
9781988249285 (Ingram global network)
DIGITAL version is available at:
PRINT version is available as "Chinese Festivals: Vol 5 to 8":