Double Seventh Festival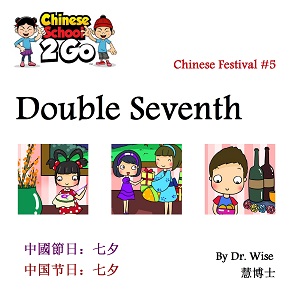 What is Double Seventh Festival?
Learn more about "Double Seventh Festival" in this TRI-lingual ebook!
Read in color coding text: English (black), Chinese Traditional (purple) and Chinese Simplified (red)

Learn about the most romantic story about Cowherd and Weaver Maid

Learn about the origin of Double Seventh with over 2000 years of history

Learn various cultural rituals and meanings for young women

Check out the mini games on COLORS, SHAPES and SIZES
Who would love this ebook?
Parents: buy a copy to share with your kids

Grandparents: buy a copy to share with your grandchildren

Teachers: buy a copy to share with your students today
ISBN:
9781987918984 (Amazon, Kindle)
9781988249131 (Smashwords, epub)
9781988249216 (PDF)
9781988249278 (Blurb bookstore)
9781988249285 (Ingram global network)
DIGITAL version is available at:
PRINT version is available as "Chinese Festivals: Vol 5 to 8":